Bishop T.D. Jakes "THE MEMORY QUILT: A Christmas Story For Our Times"
Bishop T.D. Jakes IS A QUINTESSENTIAL LEADER. Known for his service to the church and the global community, his heartfelt efforts have made worldwide impact. He is a man at the forefront of philanthropy, a best-selling author, and most of all a premier contemporary spiritual voice. Bishop Jakes has global reach through missions around the world, record-breaking events, and weekly, with his diverse congregation at The Potter's House, where he shares his message of hope, inspiration and God's love with over 30 thousand members there in Dallas, Texas. Having written over 30 books, Bishop Jakes is a New York Times best-selling author several times over! His message is also communicated in print and broadcast media through interviews and features in Time, Forbes, and Essence magazines, the Washington Post, USA TODAY, CNN, Fox News and more. In tough times, people search for messages that inspire and comfort them. With jobs being lost, homes being foreclosed upon, and the constant fear of illness without having proper health care, countless Americans cling to the hope for a new and better day. Just in time for this holiday season, Bishop T.D. Jakes publishes his debut novel specifically geared toward the Christmas season and committed to spreading a message of hope. In THE MEMORY QUILT: A Christmas Story For Our Times, Bishop Jakes weaves Biblical verses about Mary, mother of Jesus, with the present-day story about a grandmother who has suffered many losses, yet through her readings of the Bible is reminded about the many gifts that remain all around her. Bishop T.D. Jakes, named by
Time
magazine and CNN as "America's Best Preacher" and a
New York Times
bestselling author, is a leading voice of inspiration and hope for the millions of people who have read his books, attended services at The Potter's House, participated in his wildly popular conferences, and watched his sermons on television. Lela Edwards is a grandmother who lives alone in Chicago, having remained in the very same neighborhood where she lived with her husband and raised their children. Her husband of nearly 50 years has passed away and her three daughters are grown up and raising their own families. Lela's family is worried about her because the neighborhood is changing for the worst and crime is on the rise. Lela, a self-sufficient and increasingly bitter woman, is constantly at odds with her family members and refuses to leave her home, despite the break-ins and robbery attempts that are happening around her. Lela, who is known for creating beautiful handmade quilts for landmark occasions in loved ones' lives, is a dedicated and active member of her church, and the Bible is her constant reading companion.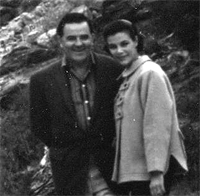 Kathy L' Amour discusses great western writer, Louis L' Amour
Louis L'Amour
has been writing stories of heroes and their struggles long before the
Stephenie Meyer
's Edward Cullens of today. He's told tales of honest thieves and crooked lawmen, of dream chasers and treasure hunters, of men and women hoping for a second chance and others down to their last breath. He's told of faraway places where women and men's strength is tested against avalanches, guns, and the struggles of the western frontier. And now, these stories have been
compiled into one book; The collected Short Stories of Louis L'Amour. After his death in 1988, John J. Miller says in the
Wall Street Journal
, "he is no longer a mere literary phenomenon but a broadly cultural one." Louis L'Amour's wife, Kathy, has taken great pride in bringing you the opportunity to be able to ask her the questions we've all wanted to know. Where has Louis L'Amour's inspiration come from? What is his favorite story? Are any of the characters based on real people? She can answer all this and more. Louis L'Amour, the ex-boxer, merchant seaman, cattle-skinner, and occasional silver miner from North Dakota is the only American-born author in history to receive both the Presidential Medal of Freedom and the Congressional Gold Medal. He has published ninety novels; twenty-eight short-story collections; two works of non fiction; a memoir, Education of a Wandering Man; and a volume of poetry, Smoke From This Altar. Louis L'Amour died in 1988 and is survived by his widow Kathy, his son Beau, and his daughter Angelique. In March 2008, L'Amour was named by The Library of Congress and its Center for the Book as the Center's inaugural "Champion of the Book"—a unique designation reserved for those who have made an important contribution to the world of books.
William Merchan, VP Sales for Blue Mics
Blue Microphones Announces World's First THX Certified Microphone, the Yeti USB Condenser Mic
Featuring condenser capsules in a triple array, Yeti is the latest, most advanced addition to Blue's line of premium USB microphones
(Westlake Village, California –November 10, 2009) – Blue a leading innovator in microphone technology and design, announces Yeti, the first THX® Certified microphone. The latest addition to Blue's new consumer line, the Yeti is the ultimate USB microphone for professional recording. The Yeti features The first USB mic to offer Blue's premium condenser capsules in a proprietary triple capsule array for the highest quality, most versatile audio recording capability After rigorous lab testing, THX certification affirms the ultimate in recording and playback fidelity thanks to superior design and quality Four patterns (Omni, Cardioid, Stereo, Bidirectional) for incredible versatility and superior results in any situation.